hace 4 años · 3 min. de lectura · visibility ~10 ·
I Am Not My Hair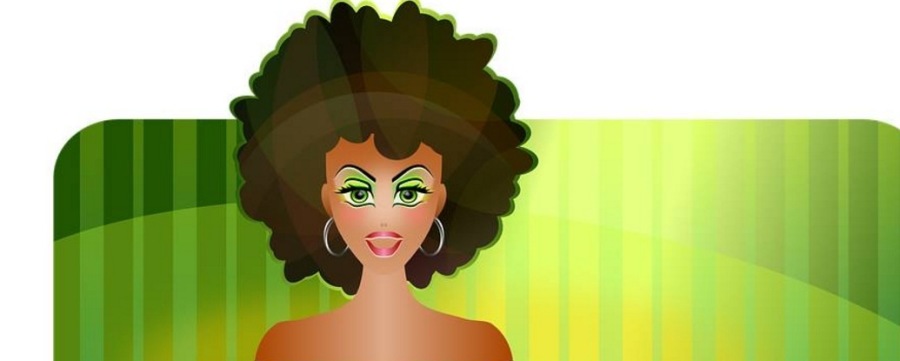 I consider myself a no fuss kinda gal. I'm not into brands, designer clothes or shoes. I really couldn't care less about what's in fashion at any given moment. I don't mind wearing the same outfit twice or buying two pairs in the same shoes, once it's comfortable but recently I realized that there was something I did care about and that was hair.
I've always considered myself practical in every sense. So when it comes to my hair, I look for the style that I can wear for a week and not have to worry about it. The thought of not having to comb my hair in the morning, brings me immense joy and finding the styles, wig, weaves or anything that facilitates that, is my goal. However about two years ago I made the decision to get off the "creamy crack" and let my hair grow out. 
My hair is happier for it and shoots out of the top of my head like sunbeams reaching out to the sun. It doesn't fall and it doesn't flow. It's big, thick and unapologetic. I never really thought much about my hair for like I said the thought of having to engage it every day would challenge me. Probably make me less cheerful. But even after months of hanging out in natural hair groups and being privy to the tales of ignorance, bliss and pride, when it came to our hair, my hair, I really never gave those stories much thought, until a number of recent situations made me stop and take heed of my own conditioning and possible self-loathing.
I was recently scheduled to meet with a potential client. I was sporting a really cool braided number but as I got ready to leave the house that morning I looked at myself in the mirror and I thought "inappropriate." I thought you're black, dressed in black with a big bush of black dreadlocks, not a good impression Katyan!" So I changed my 'hair'. I put on a sleek straight wig and although I was still black, dressed in black, my hair was now straight and I felt more ready to face the world. Self check
#1
!
About two weeks ago a friend visited me and I looked at her hair. Big, bold and reaching out to the sun and I thought, she has my hair, she looks fabulous! Why can't I do that?  As she left our meeting, I turned to her and asked the most mindless question. "What do you do with your hair when you get home?" She looked at me puzzled? So, I asked again, truly clueless, as though the same hair had not been naturally growing out of my own head for the last two years. I repeated, "What do you do with it when you get home?" I guess I was having visions of myself tugging my own mane, taming it into submission and I wondered, where did she possibly find the energy to do that every day? She looked at me as her haze of confusion lifted and explained her regime.
What many may not know is that many of us "natural girls" are only now learning how to care for our hair, having spent most of our lives, sitting in salons, burning our scalps and domesticating our hair! You Tube is filled with videos of us telling each other how to wash, comb and style our hair and that's because many of us have no clue how to care for the hair that grows naturally out of our scalp. Yet in this moment I wondered if what I had put down to simply not having the time to deal with, had its roots in a deep place of limited self-acceptance. Self Check
#2 For many cultures hair makes a powerful statement. The afro of the 1970s was as much a statement of power, as the fist and today, even after all these years, black hair seems to stir up discomfort and discontent in the hearts of many.


In my recent photo-shoot (seen above with my friend the awesome
NikoPhoto
) I simply let my hair out, no product, no styling just tugged it into place and when I look at the pictures, I'm awed an in love with me. Yet I'm not sure that I have the courage of many of my sisters to deal with the stares, the offenses or even the compliments. Practically I do not know how to tame my hair for the corporate world.
My hair stands up, it shouts look at me! My hair will not easily be easily coiffed without a fight and although I know that I am not 100% ready to set my hair fully free on the world, however I am still overwhelmed by some of the negatives that are still associated to with the hair that grows out of a person's head. 
Let's Talk About Natural Hair- The Real Daytime
Ultimately, I am hopeful that these discussions will transcend us and give mommies and daddies a safe space to speak to their children the next generation.  To peacefully discuss the issues and teach our curly hair girls to love themselves
and
their hair and I hope that one day the issue of our hair, will just be well, a non-issue.
 India.Arie
I am not my hair
No tienes grupos que se ajusten a tu búsqueda